Dalmangoo, 锅边糊 (Aunt Kim version)
Dalmagoo, 锅边糊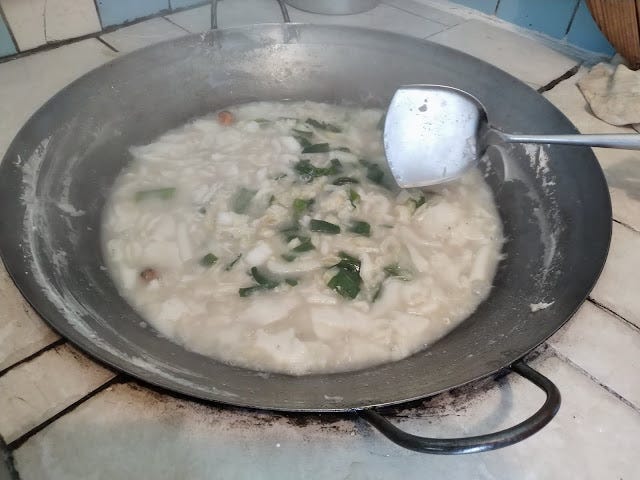 "We didn't use chicken broth?! Idiots!" - Ray
Ingredients 
1 lb bag of rice flour (usually a clear bag with red print)

1 cup of water

Salt

Onions

Cabbage

Scallions

Mussels [Optional]

This can be any desired seafood for taste such as clams or shrimp. 

Chicken broth

Chicken bones and salt that were slow cooked for 4 hours. Additional vegetables can be added for flavor.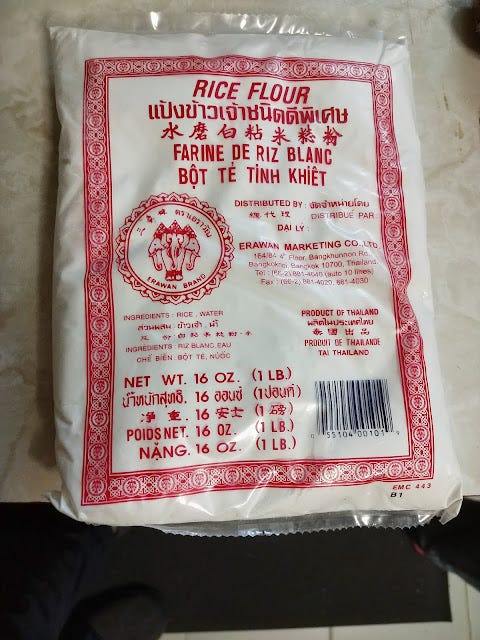 Cooking Tools
Steps
Wash and cut your vegetables. In this case, we used onions, Napa cabbage, and humongous scallions.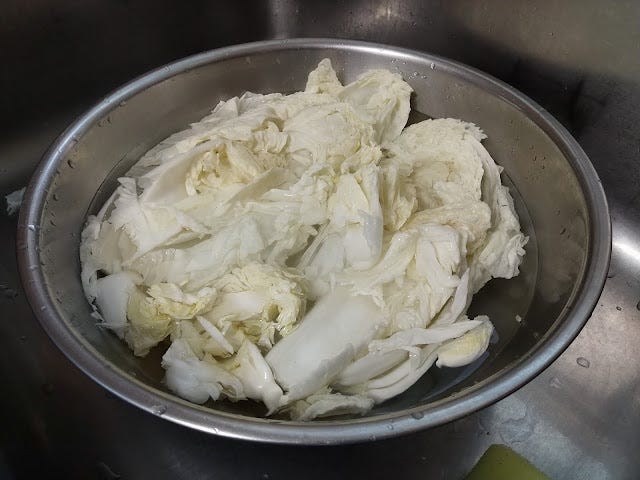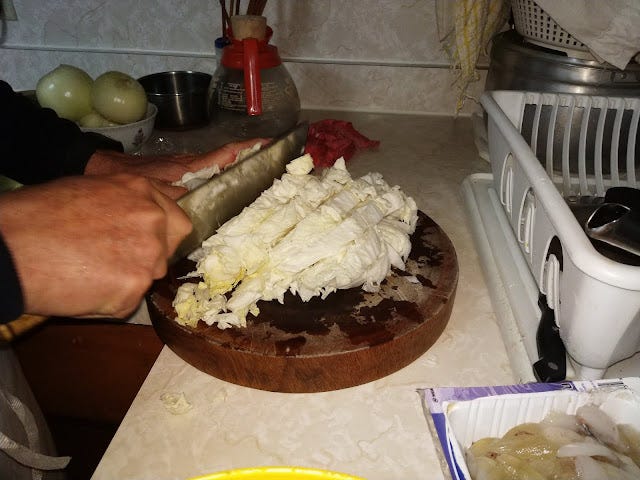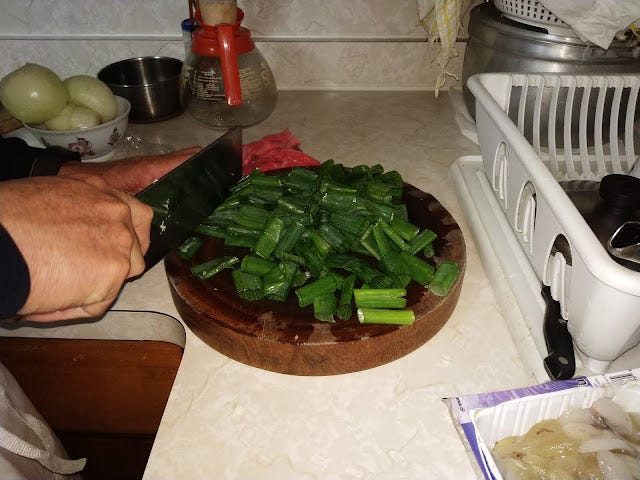 Mix the whole bag of rice flour with 1/4 teaspoon of salt.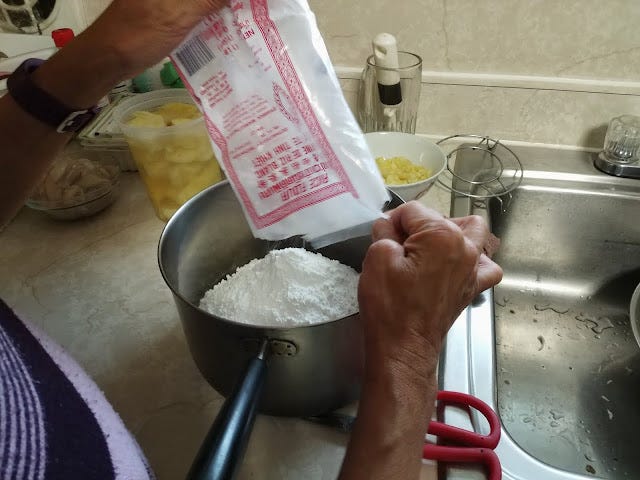 Create a crater in the middle of the rice flour and pour in 1 cup of water. Mix the water and flour until the mixture is at the desired consistency.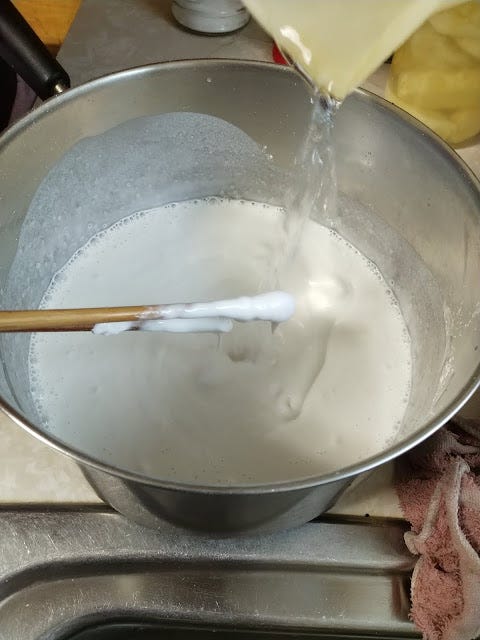 How do you know how much water to add? You want it to be relatively thin, but still form a continuous stream (without breaking) when you pour it.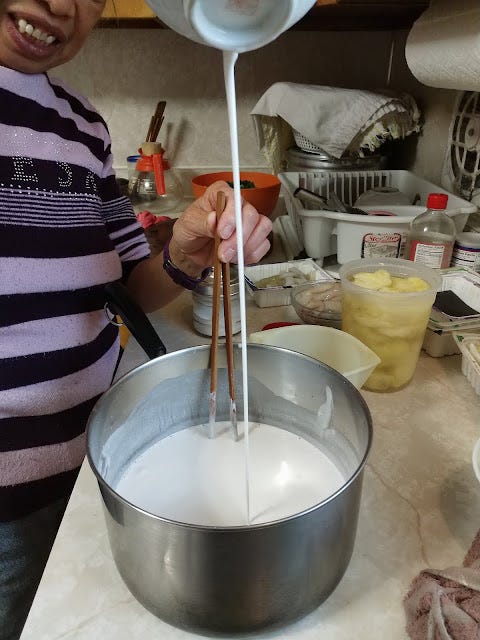 Here's a video:
Heat up a wok. Add some oil. We'll start by stir-frying the onions. They take longer to cook.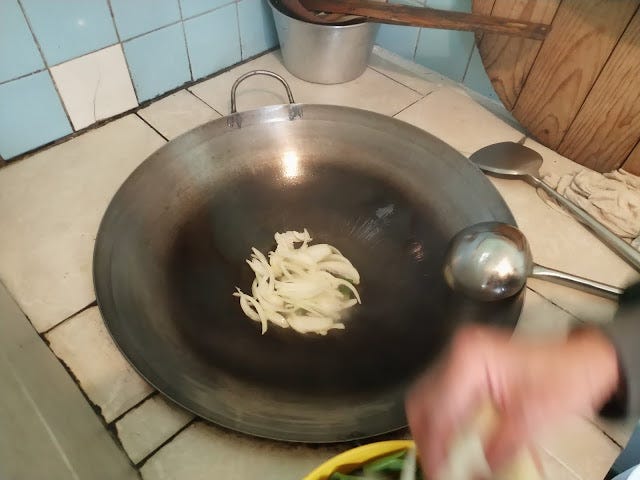 Then add in the cabbage.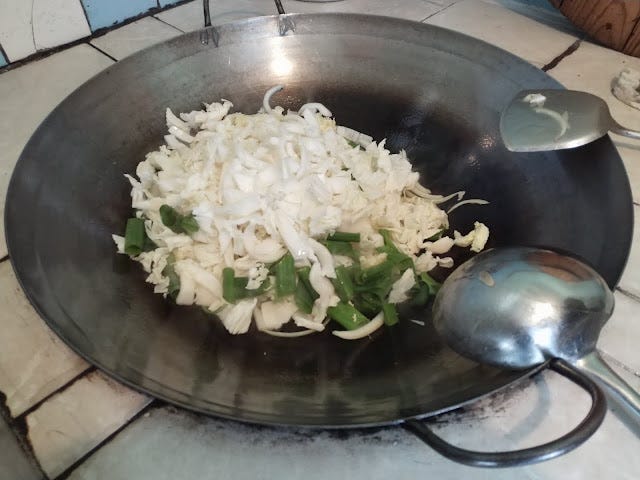 Finally add scallions.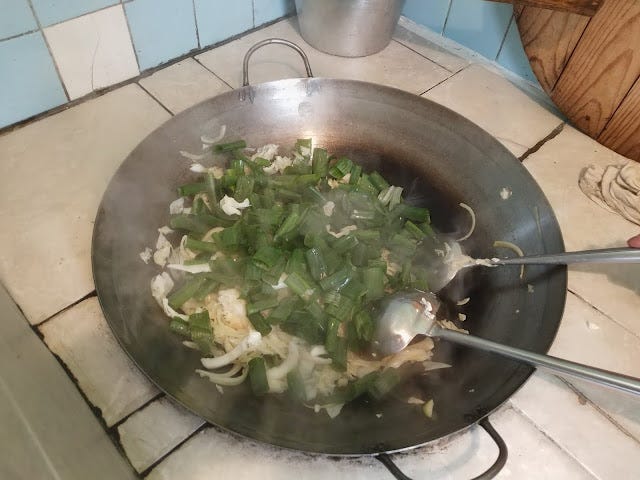 Once they're relatively cooked, pour 2 scoops of chicken broth into the wok. Cover the wok to boil.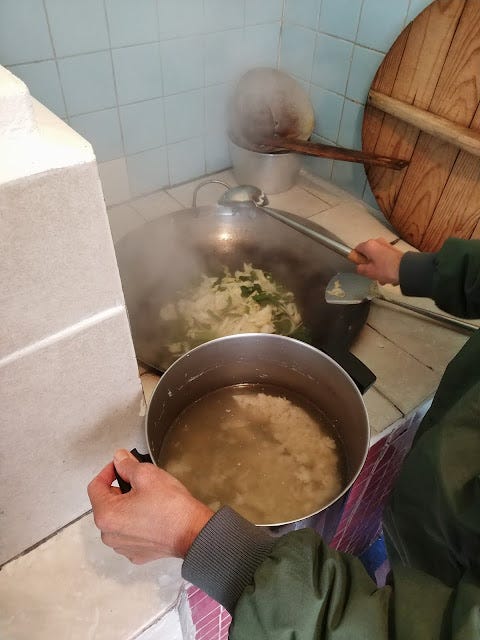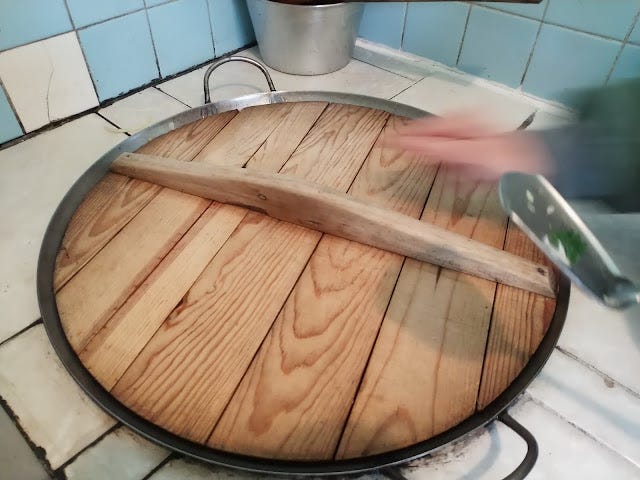 Steam for a few minutes.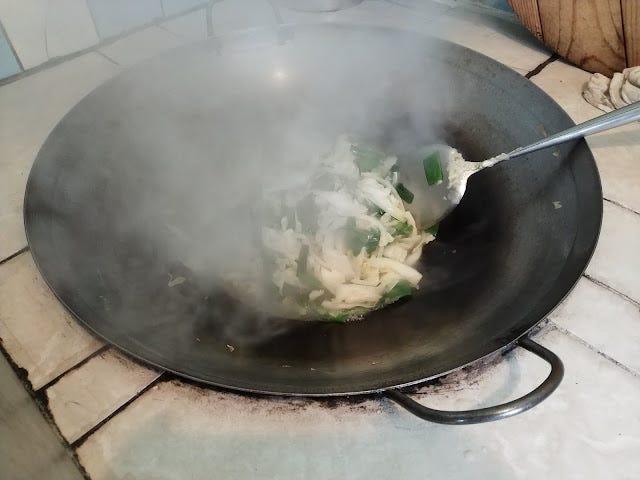 Then remove the vegetables and set it aside.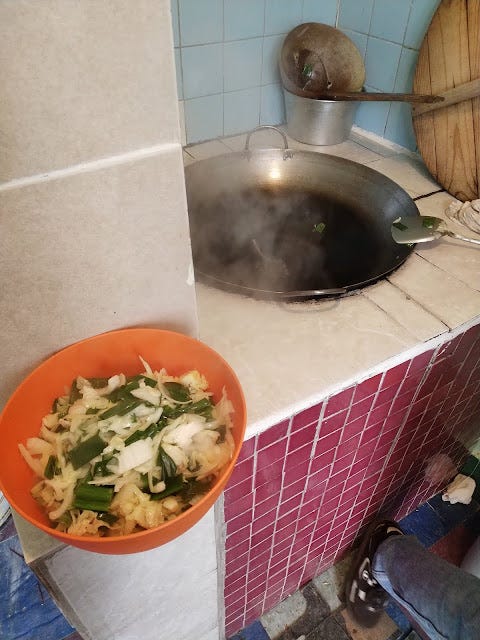 Pour all the remaining broth into the wok and bring it to a boil. We're just trying to heat it up for later.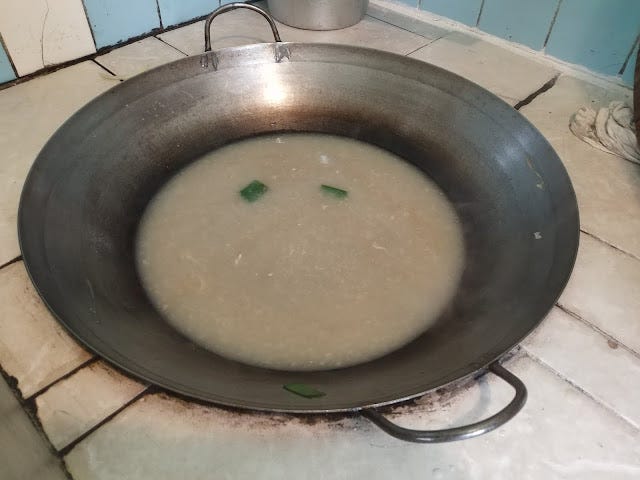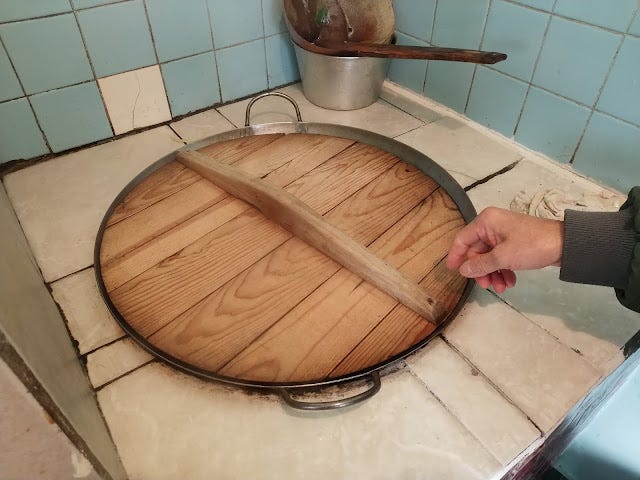 Then remove half of the broth from the wok which will later be used to maintain the consistency of the noodles.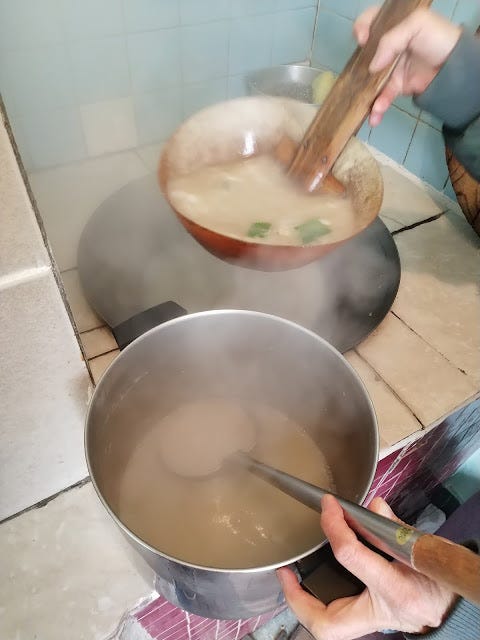 Here comes the tricky part. With some broth remaining in the wok, you want to heat up the wok to a high temperature. Then in a fluid motion, pour a bowl full of the rice flour/water mixture around the dry side of the wok. You don't want the wet flour to touch the soup, or the soup gets goopy.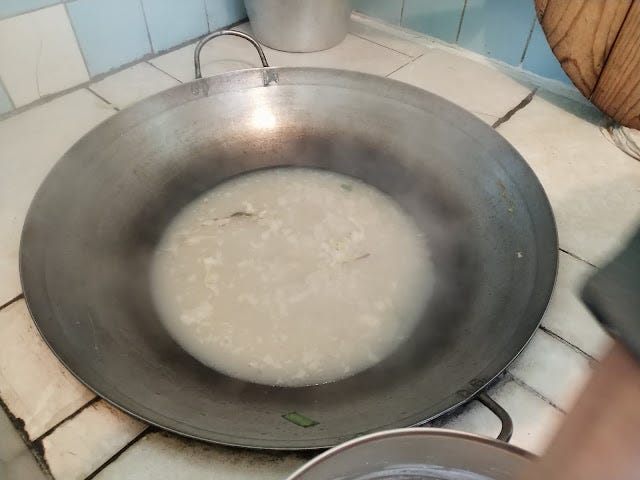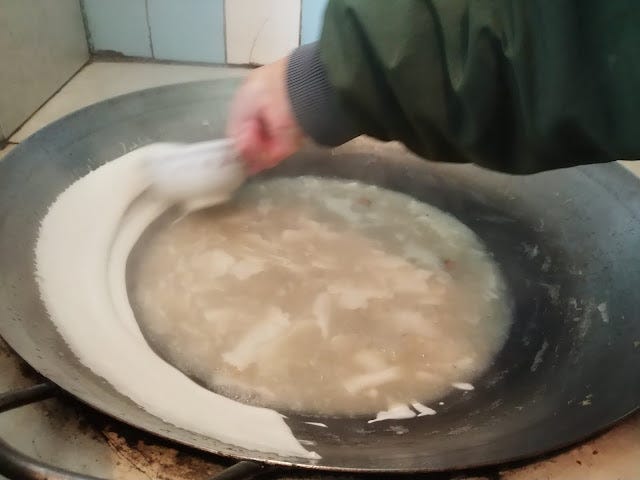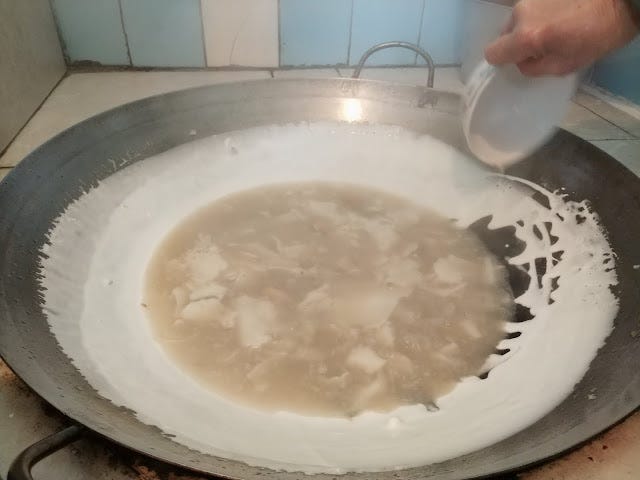 Here's a video of the whole process
Wait for the noodle to cook. You can cover the wok if it helps. Then push the noodle into the broth. Noodles should only be pushed into the broth when it is boiling. The key is to have these solid flakes of noodle.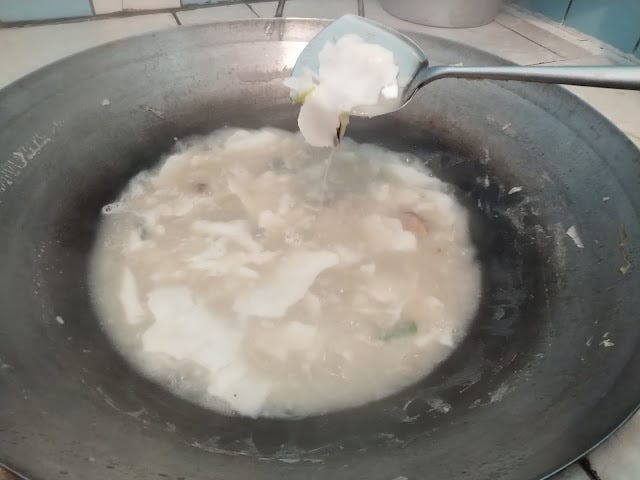 Add more broth when it is too thick with noodles. Continue until you use all the flour/water mixture. Once you're done, mix the vegetables into the soup and let it boil. Then transfer to a big pot.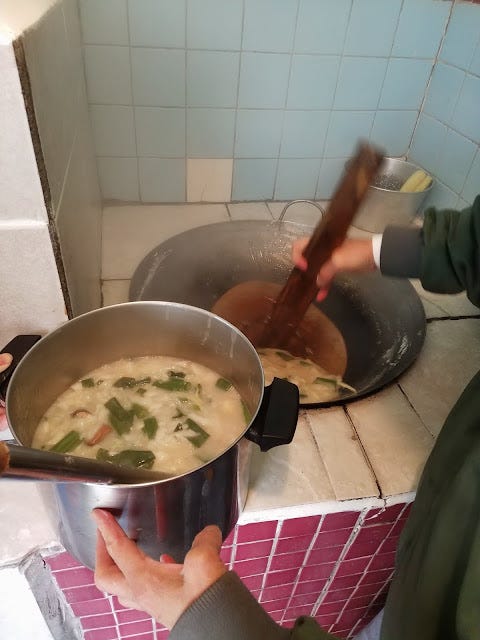 And you're done! 
Dalmagoo, 锅边糊