Discover more from Fuzhou Food
Chinese Cuisine Recipes from Fuzhou, Fujian, China - Bringing the food of Fuzhou to your kitchen, one recipe at a time
Jahui Soup, 什烩菜
Jahui Soup, 什烩菜 (ja2 hui4 cai4)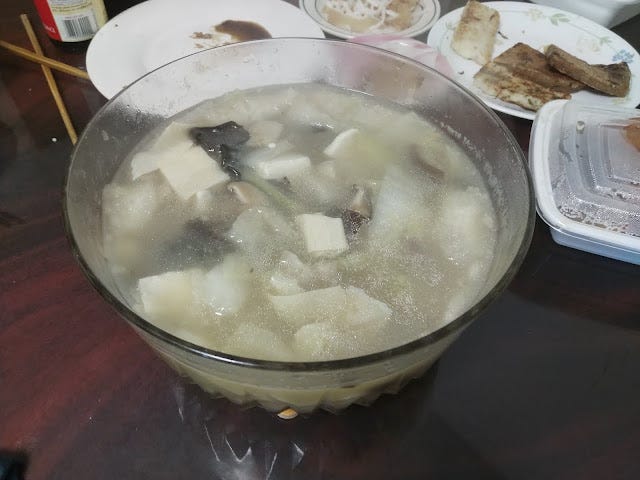 "You can eat this any day" - Mom
Ingredients 
Dried Bean Curd

Firm Tofu

Black Mushrooms, 冬菇

Black Fungus, 木耳

Prince Mushrooms, 王子菇 [optional]

Fried Pork Skin (see packaging below)

Cabbage

Vermicelli

Chicken Broth (or some other meat broth)

Skin trimmed from pork belly [optional]

Celery [optional]

Dried Scallops [optional]

Salt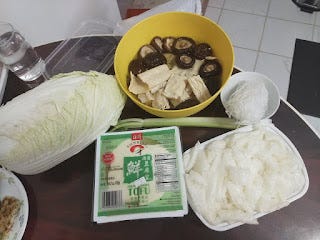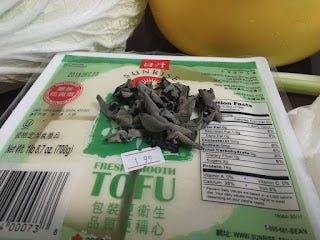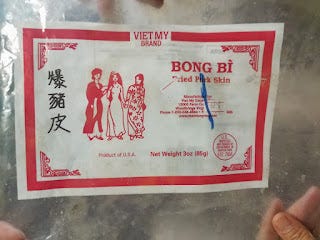 Cooking Tools
Steps
First, soak the dried bean curd, mushrooms, black fungus, vermicelli, and fried pork skin in water, then drain. These should soak in different bowls for different amounts of time.
Bean curd: 2 hours
Mushrooms: 2 hours if whole, 30 minutes if you split it in quarters
Black fungus: 20 minutes
Vermicelli: 15 minutes
Fried pork skin: 30 minutes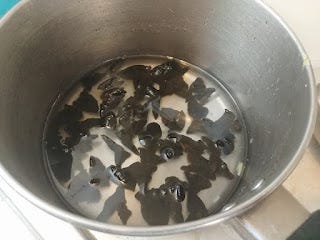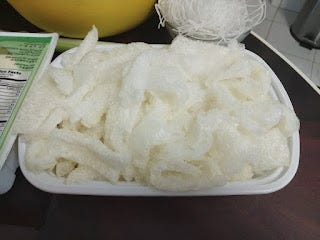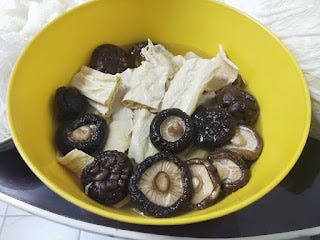 [Optional] If you are making a pork belly dish, you can skin the pork belly and cut into little strips. Flash boil the skins by putting it in boiling water for a short period of time. Set this aside for later.
Heat up a wok with oil.
Stir fry the cabbage, pork belly, and fungus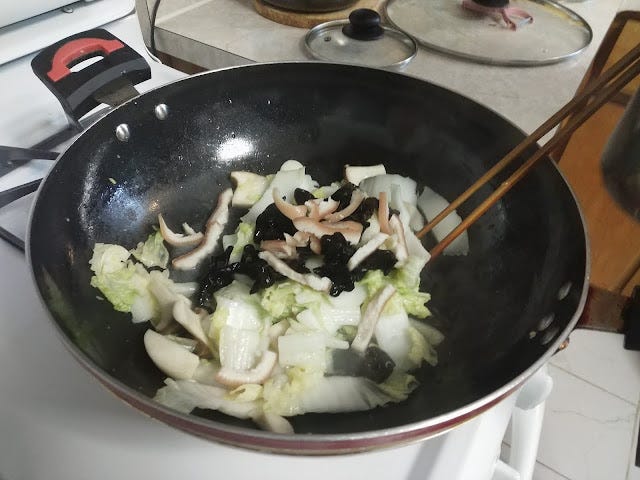 Add mushrooms. Celery is optional.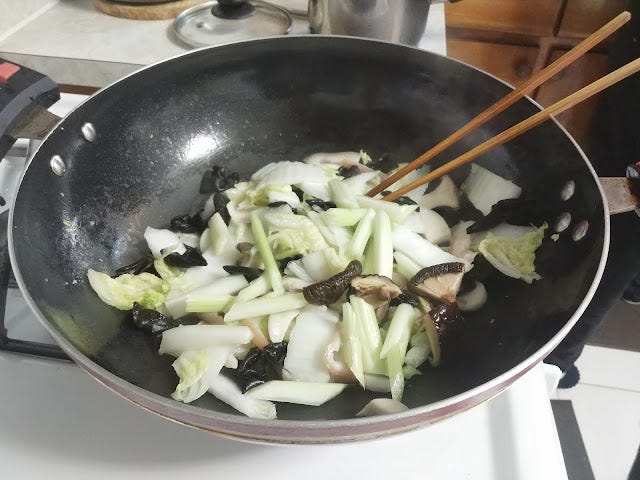 After that, fill the wok with chicken broth. Make sure the soup has already been brought to a boil separately. Pour the soup around the sides of the wok. DO NOT pour the soup in the middle (it will ruin the taste).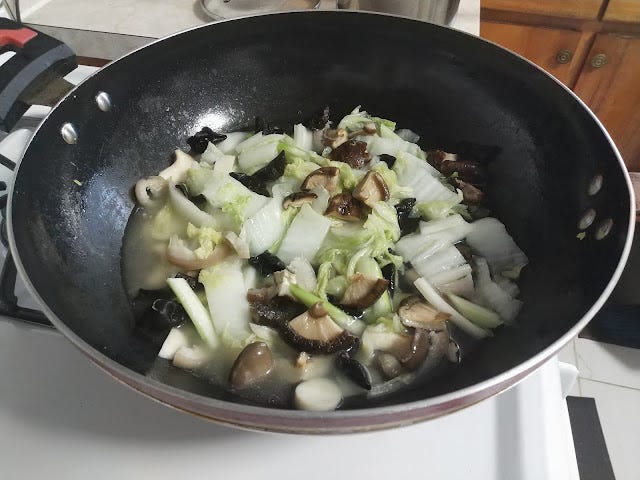 Add bean curd, fried pork skins, and tofu. Optionally add some dried scallops (just washed, not previously soaked; if you soak, you'll lose the taste).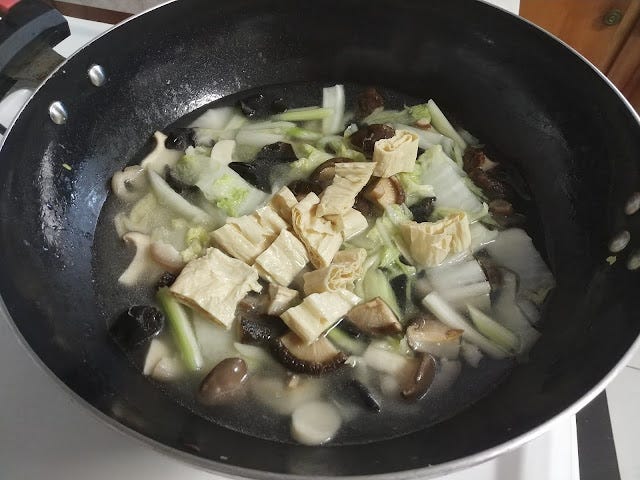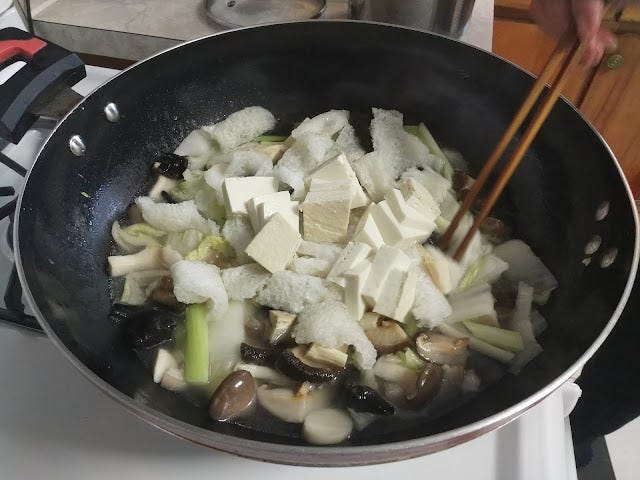 Cover the wok and bring to a boil on high heat. After it's boiling, then turn the heat to medium. Cook for 30 minutes. You should check that all the foods are cooked (especially the bean curds).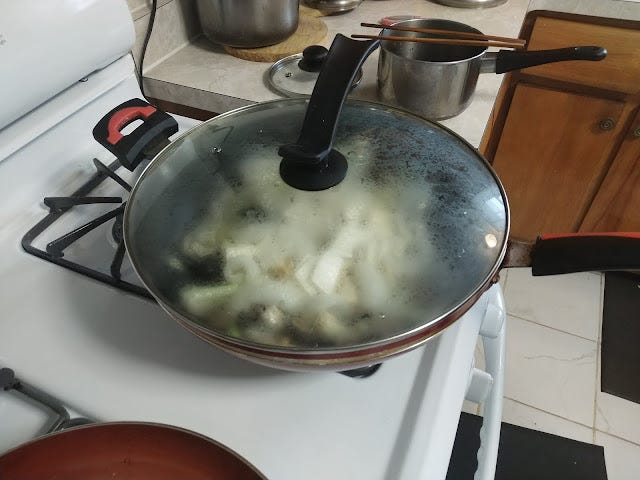 Add salt to taste.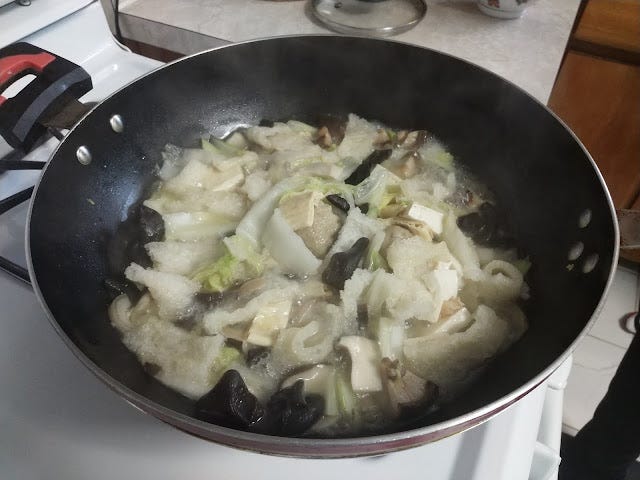 And you're done! 
Jahui Soup, 什烩菜