Discover more from Fuzhou Food
Chinese Cuisine Recipes from Fuzhou, Fujian, China - Bringing the food of Fuzhou to your kitchen, one recipe at a time
Lychee Pork, 栛枝肉
Lychee Pork, 栛枝肉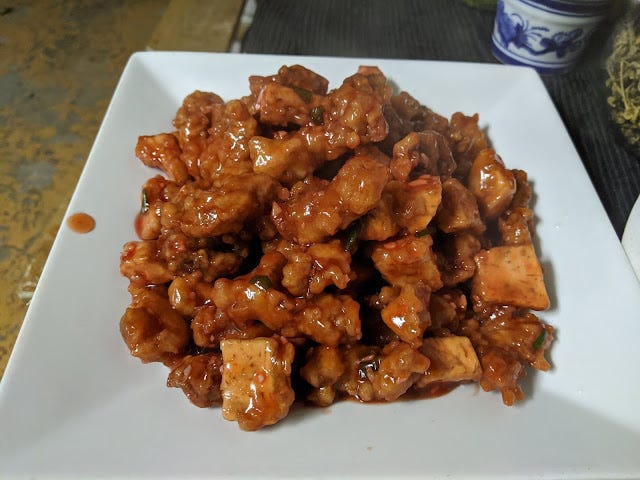 "Where's the Lychee?" - Ray
Ingredients 
1 lb Pork shoulder or loin (no fat or skin)

1 Taro (can be replaced with potato or sweet potato)

1 egg

Scallions

Ginger

Salt

Baking soda

Corn starch

Soy sauce

Sugar

Vinegar

Cooking wine

Red food dye

Sesame oil
Cooking Tools
Butcher knife and cutting board

Wok

Large Bowl
Steps
Let's first make the sauce that we'll use for stir-frying later. We'll make 1 pint of sauce total. Combine, mix and set aside:
1 tsp soy sauce, 2 tsp sugar, 1 tsp vinegar, 1/3 tsp salt, 2.5 tsp cooking wine, couple dashes red food dye,
and 5 tablespoons water.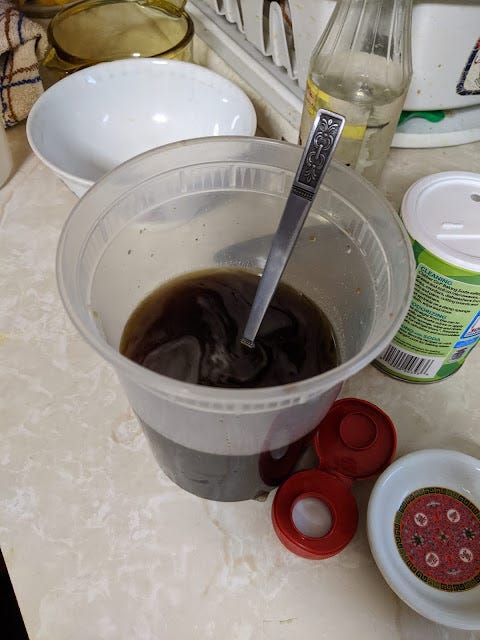 Defrost your pork.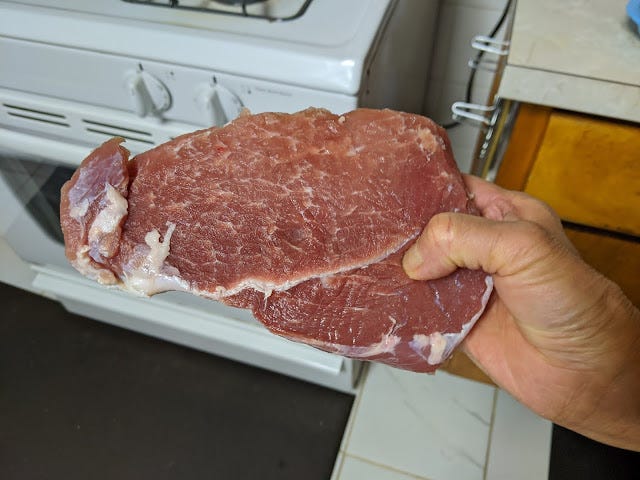 First cut the pork into strips.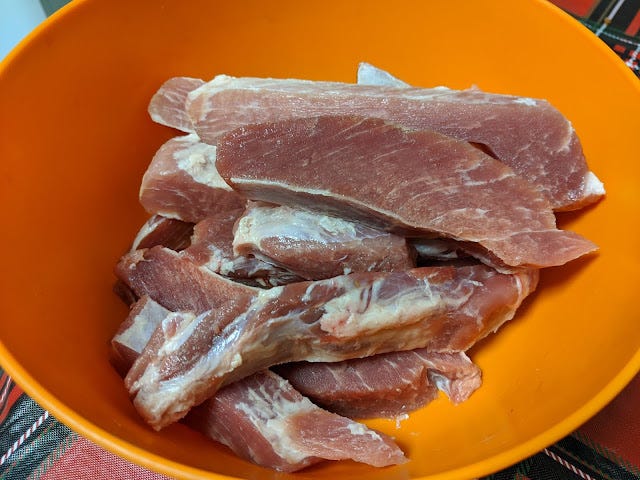 Now with 1 strip on a cutting board, use the back size of a butcher knife to tenderize the pork in diagonals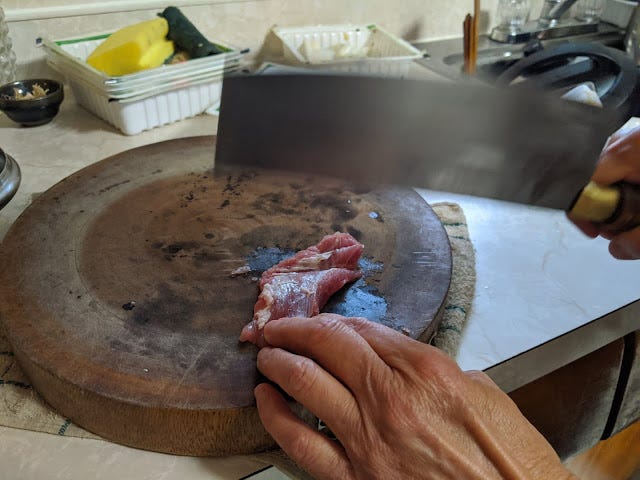 Flip it over and tenderize both sides.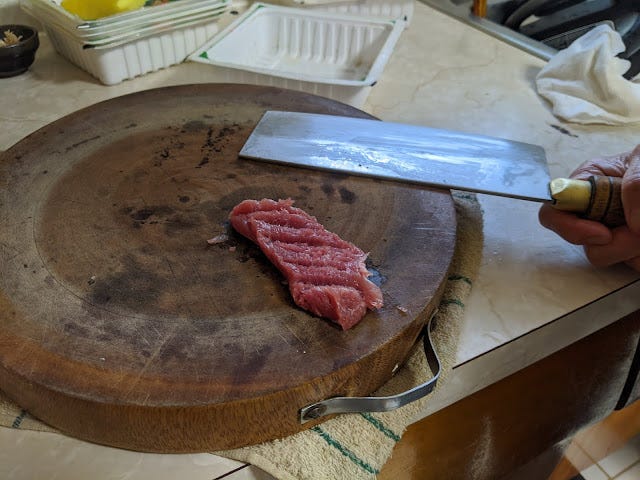 Now lay the strip flat. We need to cut 45 degree slits into the meet, creating flaps in a criss-cross pattern.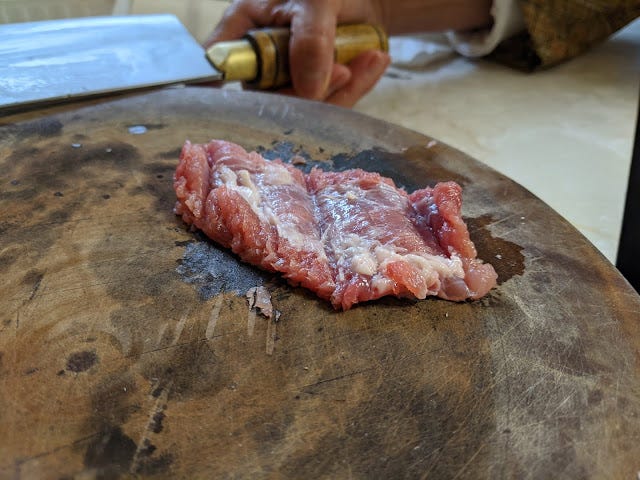 Start cutting a flap at a 45 degree angle at regular intervals along the diagonal of the strip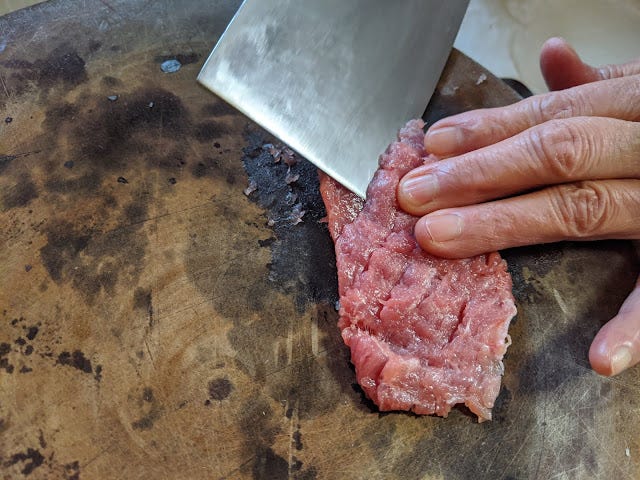 Then flip the strip 90 degrees to do the same in a criss-cross fashion. Flip the strip over on its back and do the same to the other side.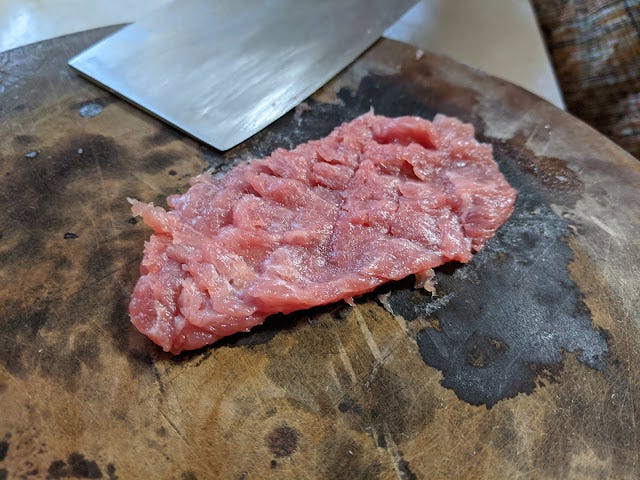 When you're done, cut the strip into even bite-size pieces.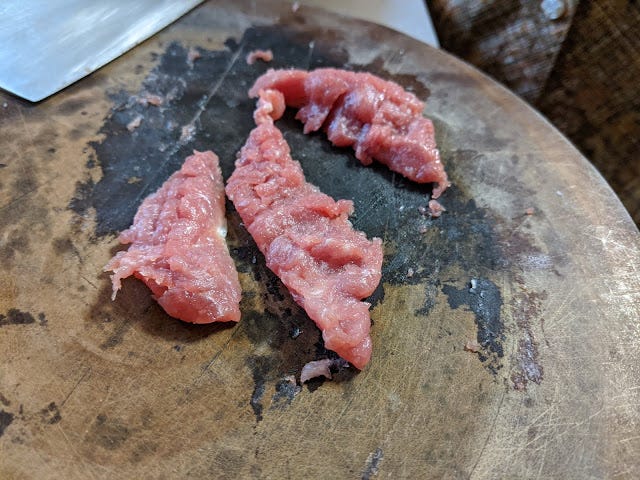 Put all of the pork in a bowl. Add 1/3 tsp salt, 1 tsp baking soda, 1 tablespoon of water and use your hands to mix well into the meat.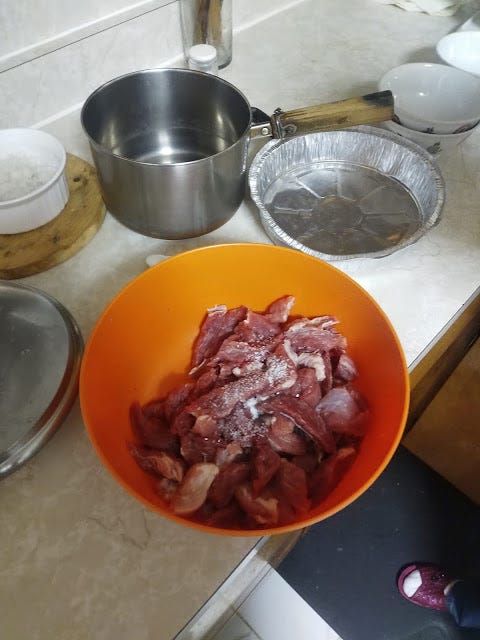 In a separate bowl, beat 1 egg together. Add 1/2 of an egg into the bowl. Use your hands to mix everything well into the meat.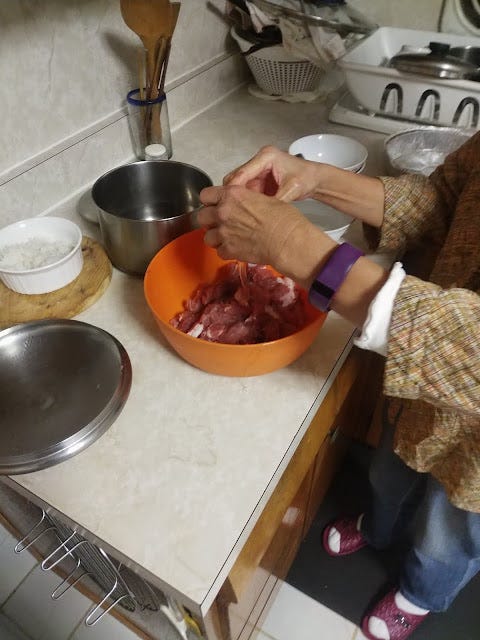 Also finely dice your ginger and cut/wash scallions. Set aside for later.
Clean, cut, and cube the taro in a separate bowl. You can also use potato or sweet potato here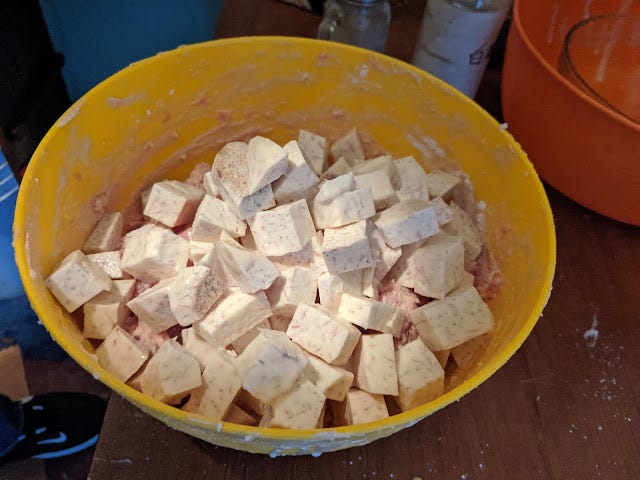 Add a little water to wet the taro. Then, add cornstarch to cover the taro in a batter for deep-frying. Pre-heat the wok with frying oil to 350 degrees F. The taro should be deep-fried first separate from the pork, as it requires less time and lower temperature. Now deep fry the taro and set it aside for later.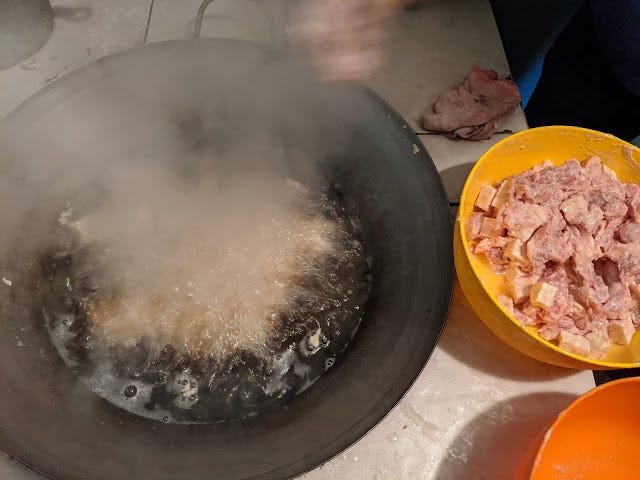 Now let's deep fry the pork. Just add cornstarch directly to the pork. It'll stick to the egg that was added previously, creating a batter around the pork.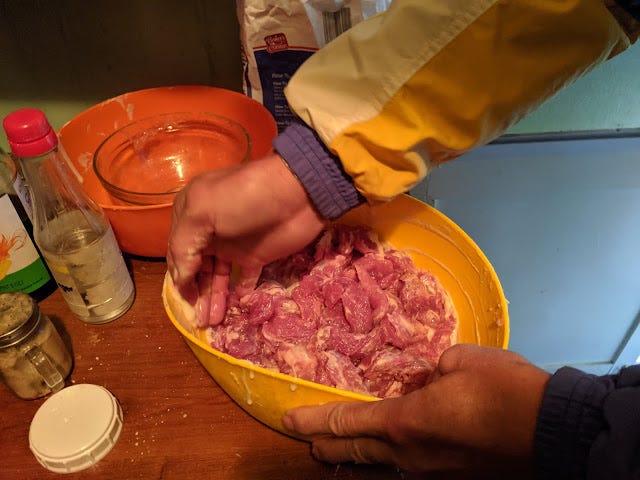 Deep-fry that pork!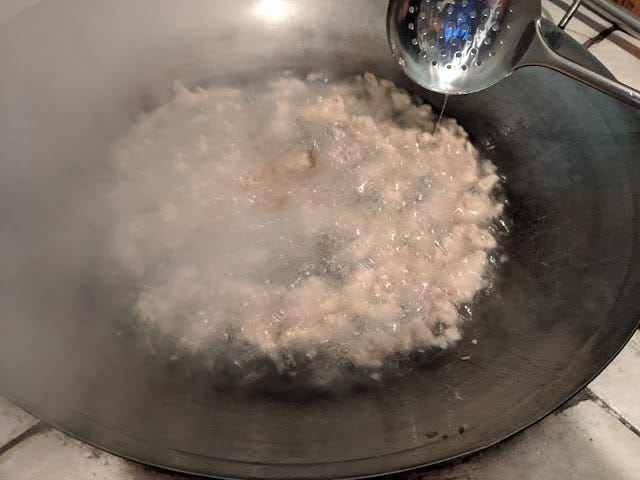 Now set the fried pork and taro aside. We will stir-fry these ingredients together with our sauce next.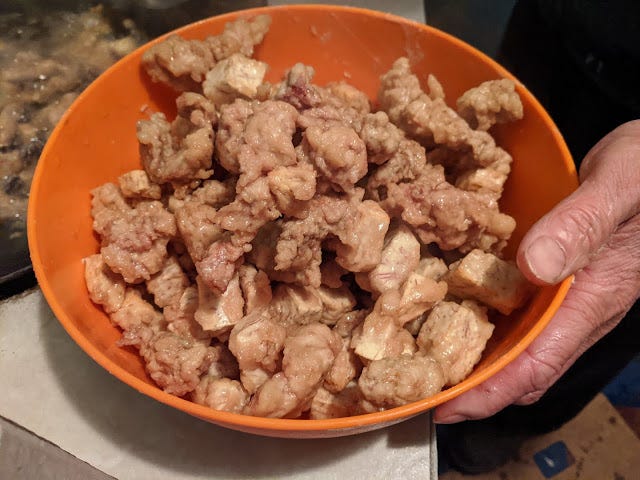 Heat up a wok with cooking oil. Start with stir-frying your scallions and ginger.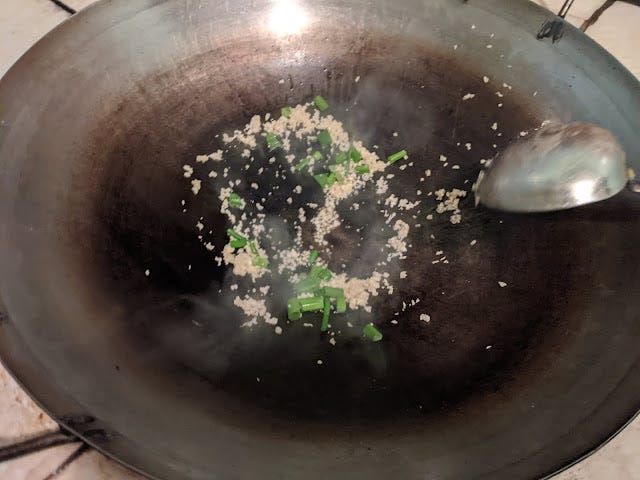 Now pour in the sauce that we made earlier.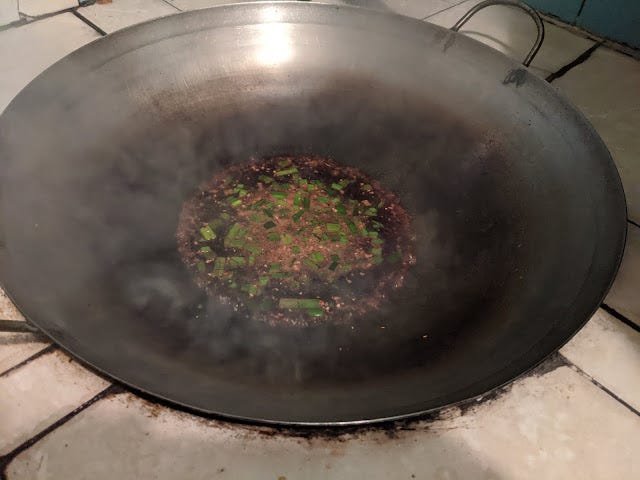 Cover the sauce and bring it to a boil.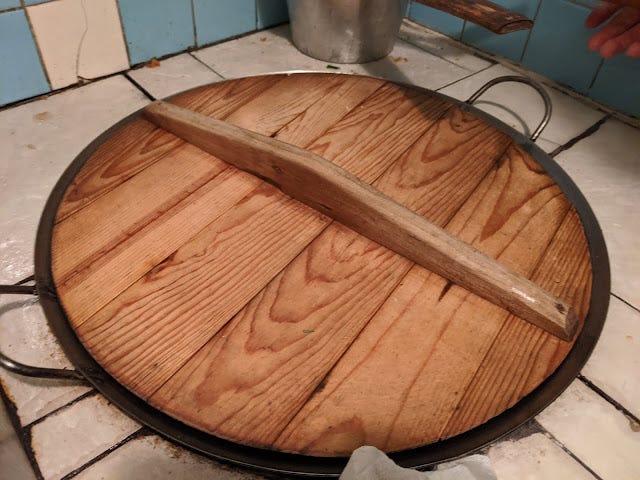 Now add the fried pork and taro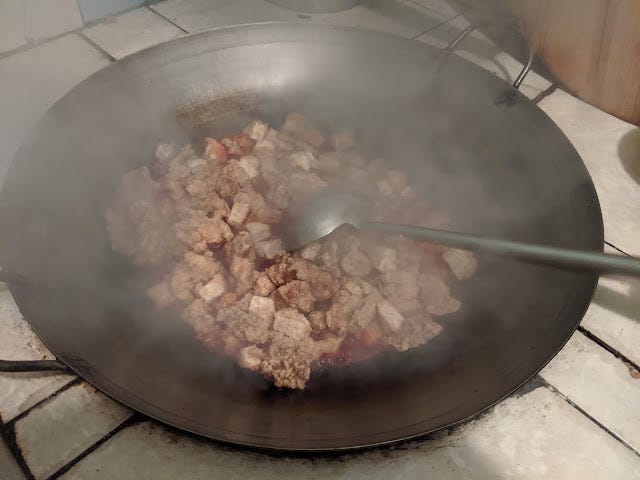 Now stir-fry well and mix. The pork should absorb the sauce and red coloring.
In a separate bowl, make a small mixture of cornstarch and water (see the bottom right)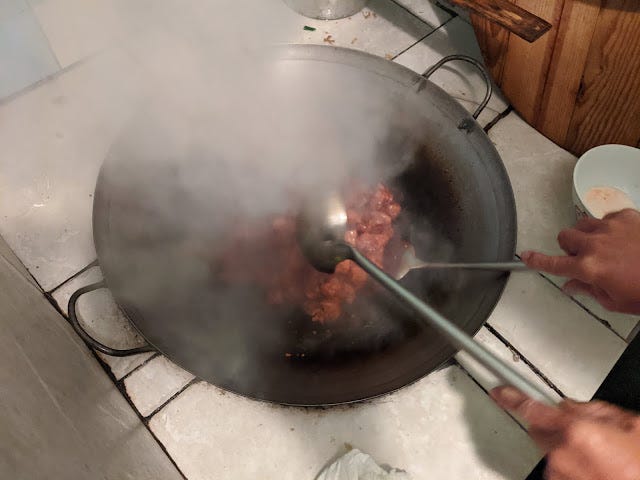 Add a spoonful of the cornstarch mixture to thicken up the sauce.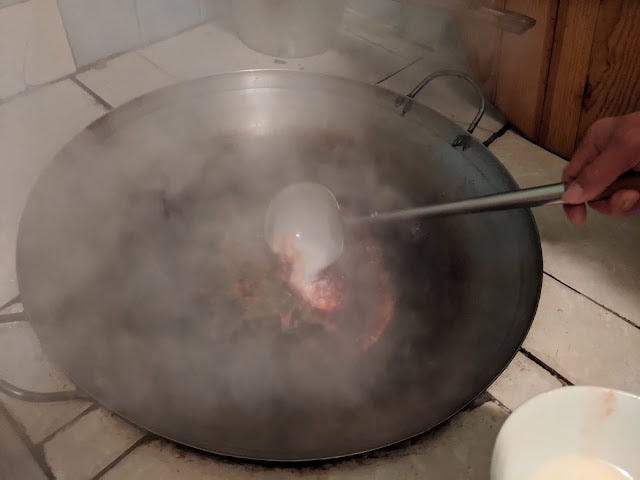 Add a dash of sesame oil for fragrance. Serve on a dish!
Notice that the sauce is not too loose or too thick.
Lychee Pork, 栛枝肉