Three Fresh Seafood Noodle (Shrimp, Scallop, Squid), 三鲜两面黄
Three Fresh Seafood Noodle, 三鲜两面黄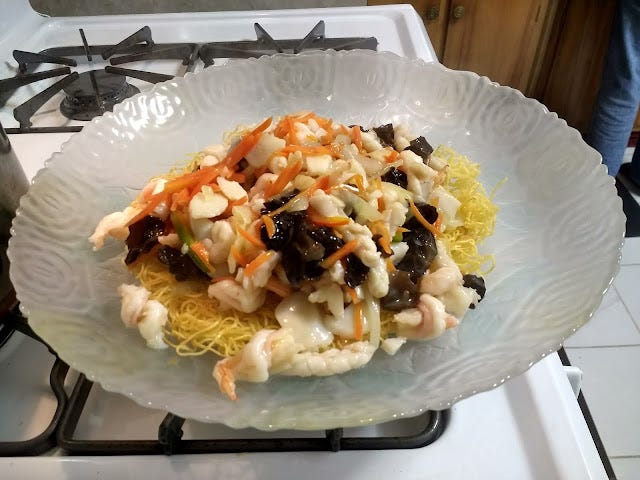 "Lost in the archives" - Ray
Ingredients 
Shrimp

Scallops

Squid

Ginger

Hong Kong Style Pan Fried Noodles

Onions

Green Peppers

Carrots

Tree Ear Mushrooms (Black fungus)

Salt

Soy sauce

White pepper

Cooking wine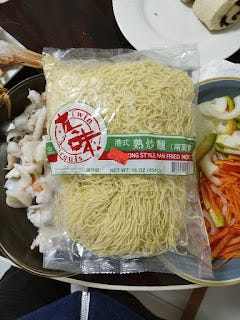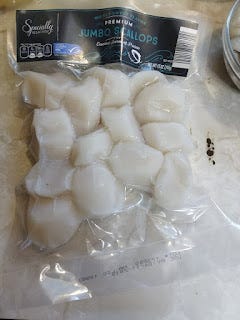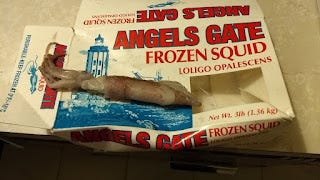 Cooking Tools
Steps
Begin by preparing the vegetables. First soak the mushrooms in water to soften them. Separately, clean, peel, and slice the carrots, onions, and green peppers into thin slices. Then set to the side.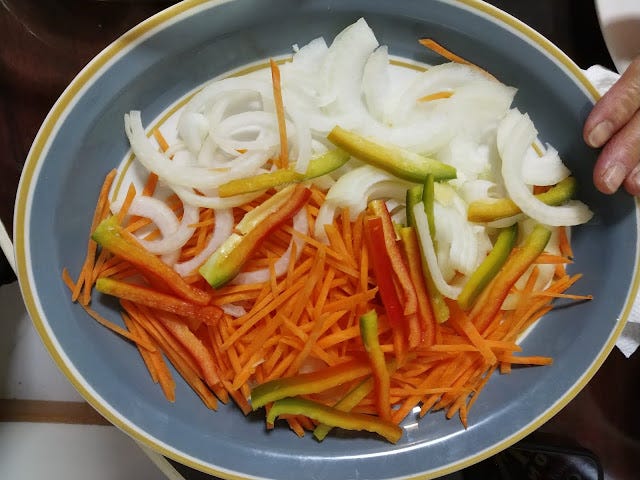 Clean and cut the squid. See http://fuzhoufood.blogspot.com/2018/01/salt-and-pepper-squid.html for more details on how to prepare squid.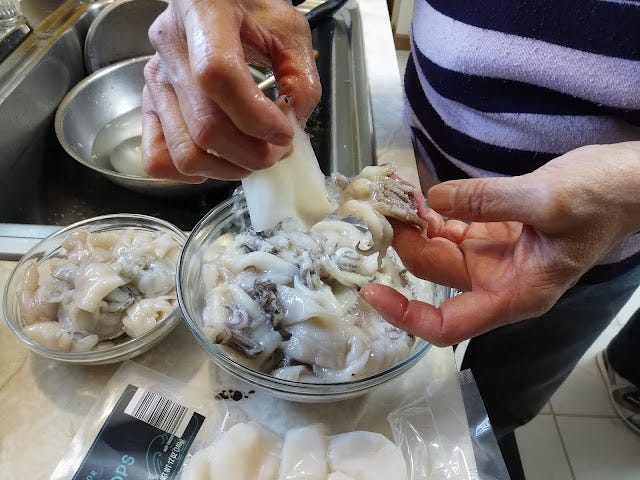 Clean and cut the shrimp into halves. See http://fuzhoufood.blogspot.com/2014/11/deep-fried-shrimp.html for more details on how to prepare shrimp. Cut the jumbo shrimps into 2 halves.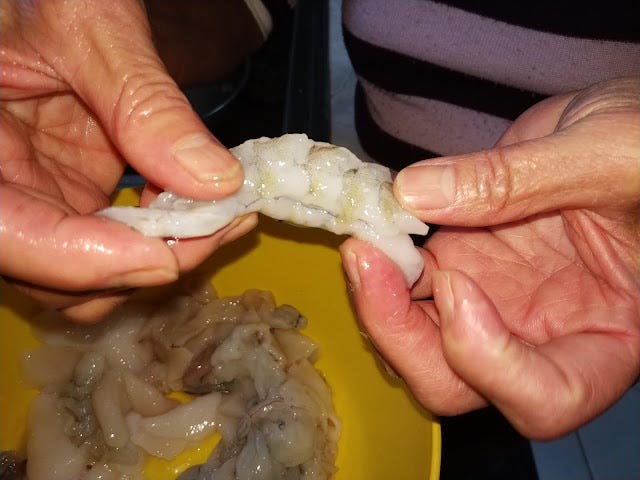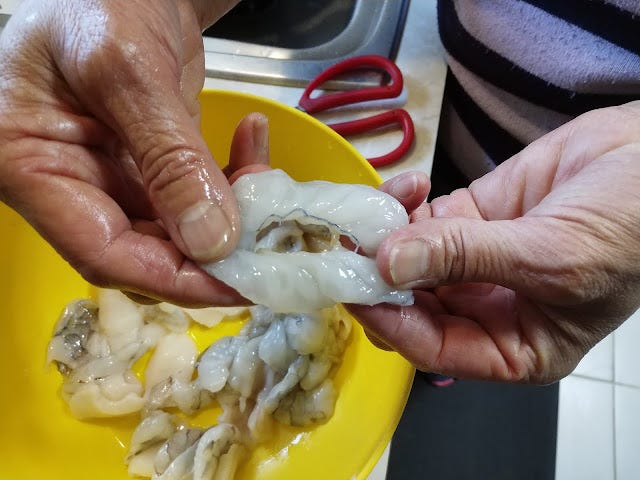 After thawing and cleaning the scallops, slice the scallop into 3 horizontal slices.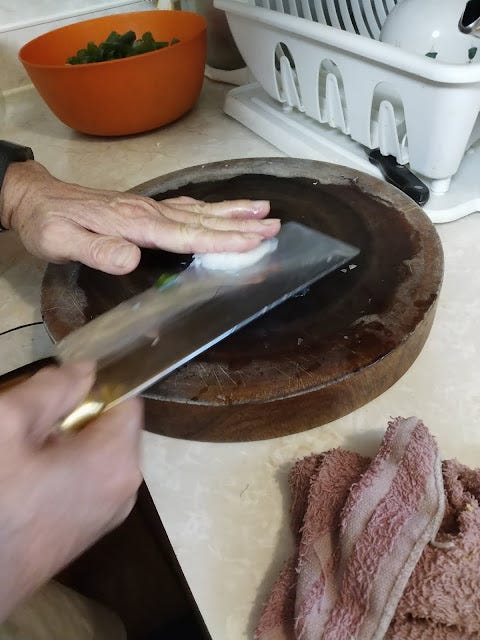 Clean the seafood in cold water and drain.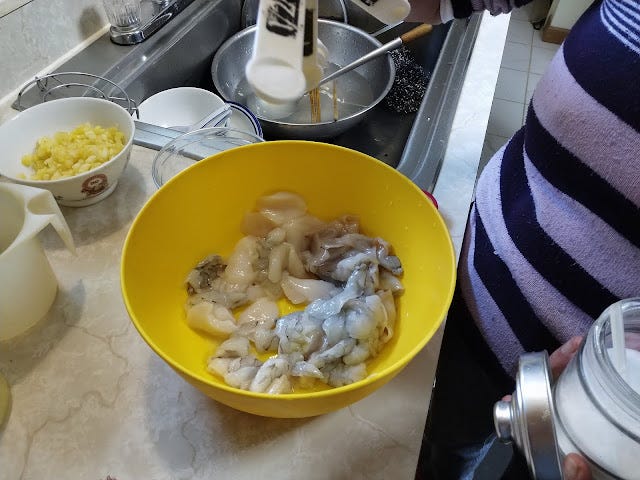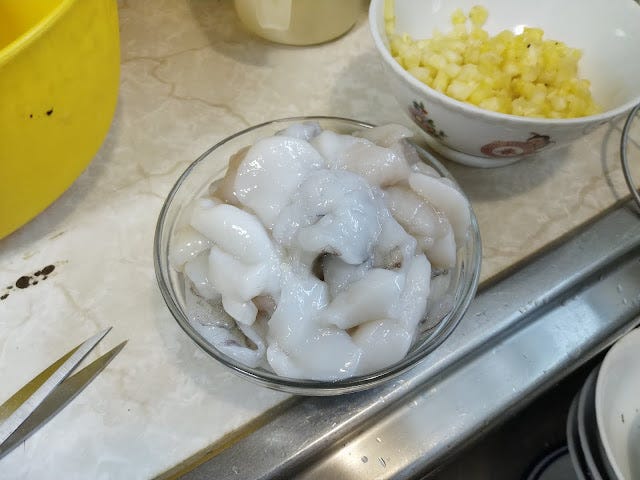 Boil some water in a wok or pot. To cook the seafood, place the shrimp, scallops and squid in for 1 minute. Drain and set aside. Take care not to overcook the seafood.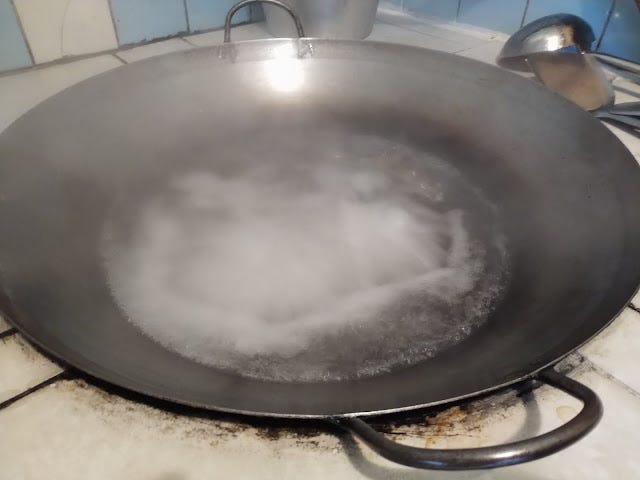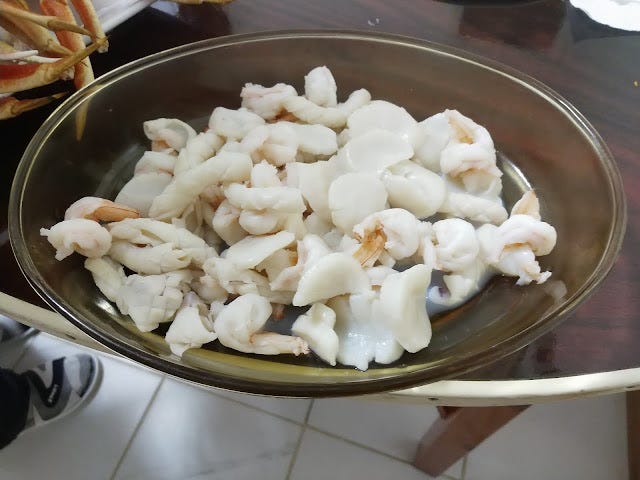 Now when cooking the noodles, boil a fresh pot of clean water. Boil the noodles to al dente. Takes 1-2 minutes. Drain and set aside.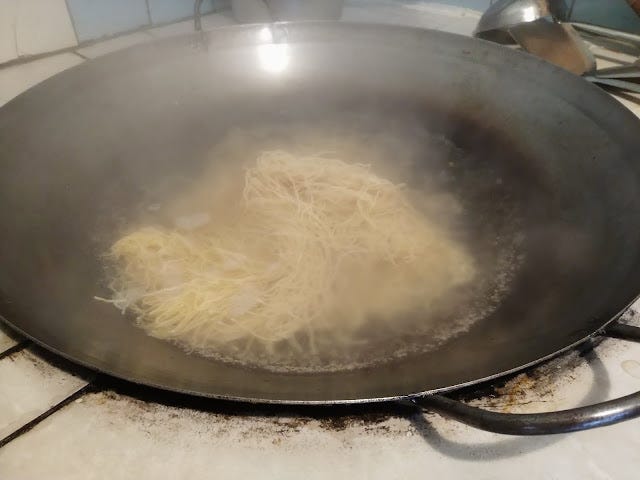 Drain the noodles and add 1 tsp oil to keep the noodles from sticking together.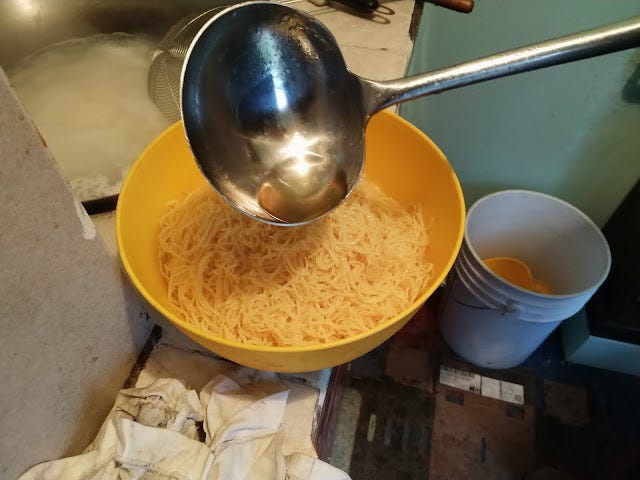 Heat up a wok with 1 tablespoon of oil.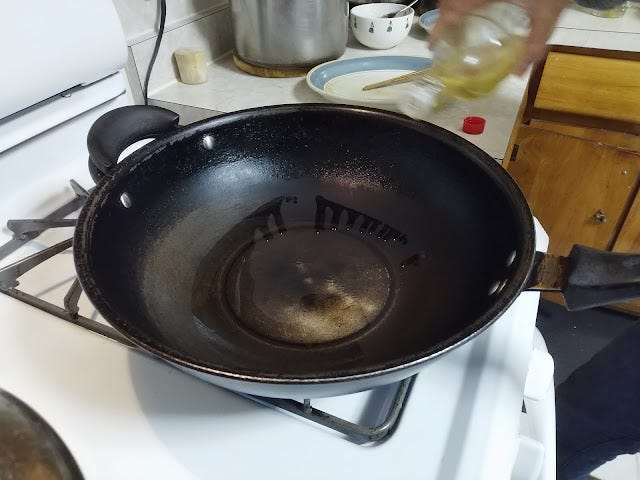 Rotate the wok so the entire surface is covered with hot oil.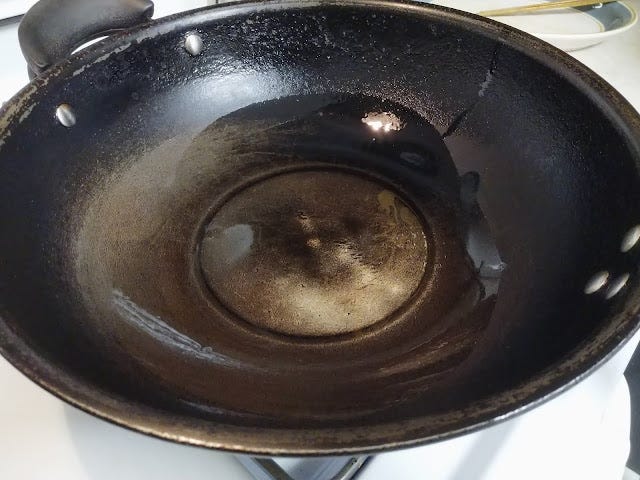 Heat the oil on high to a very hot temperature. When the oil is extremely hot (without burning/smoking), then add the noodles.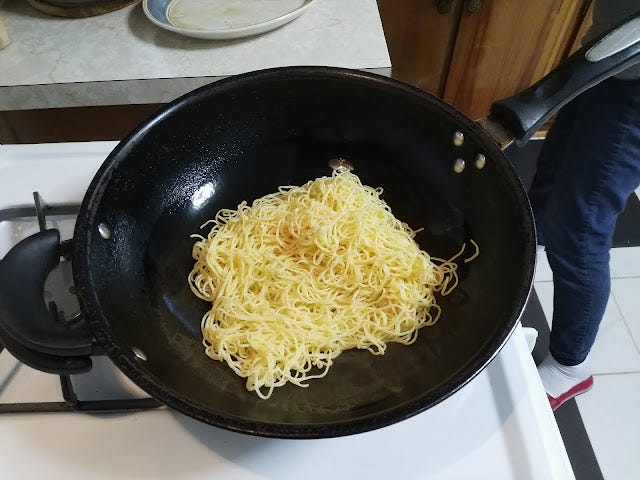 Flatten the noodles into a cake.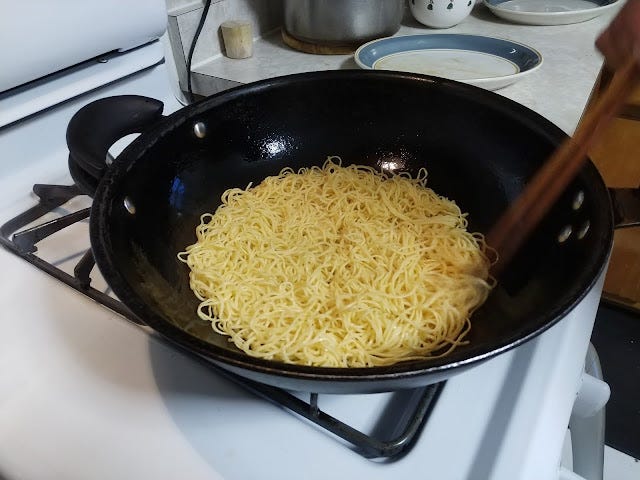 Fry the noodles until it's crispy/golden brown on the bottom. Without disturbing the noodle shape, shake the pan periodically to ensure that it doesn't stick to the bottom. Reduce heat to medium after a couple minutes.  
Then flip the wok for the noodles to flip over and cook until the other side is crispy/golden brown. Be careful not to break the flat pancake. Continue to shake the pan.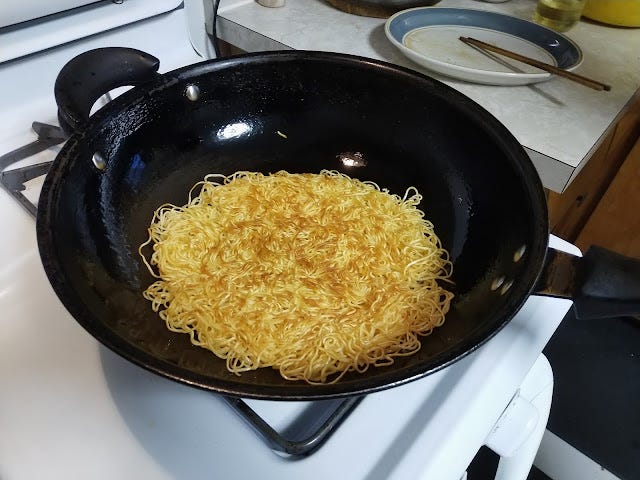 Set the noodles aside to a separate plate. 
Now with hot oil, stir fry the vegetables first. Then add the seafood.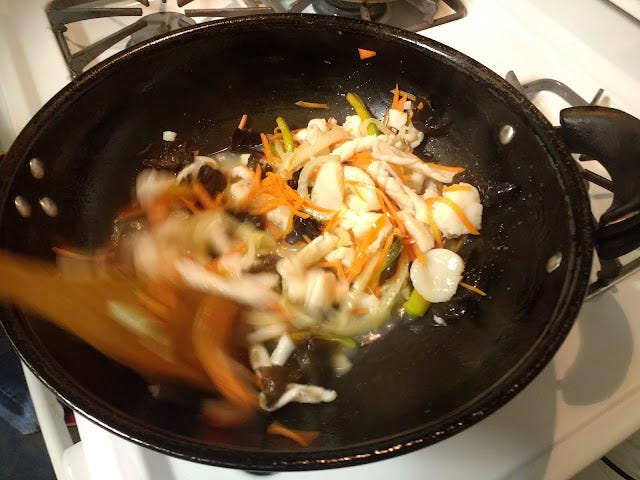 Add 1 tsp salt, 2 tsp soy sauce, dash of white pepper. Then add a little water with cornstarch and 1 tablespoon of cooking wine and bring it to a boil. At the very end, add a dash of sesame oil.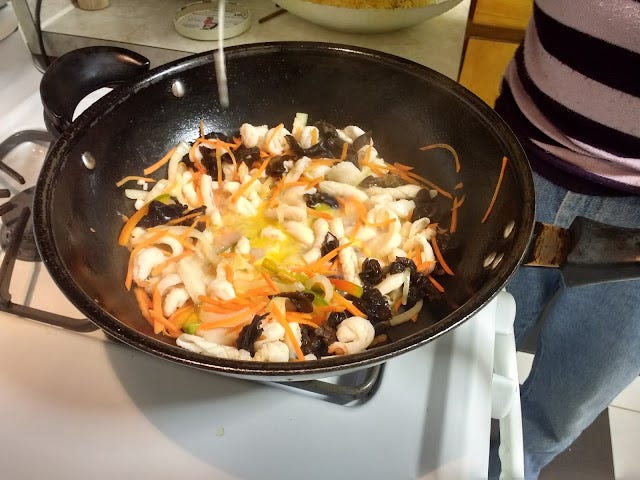 Pour the seafood/vegetable stir fry over the fried noodles on a flat plate.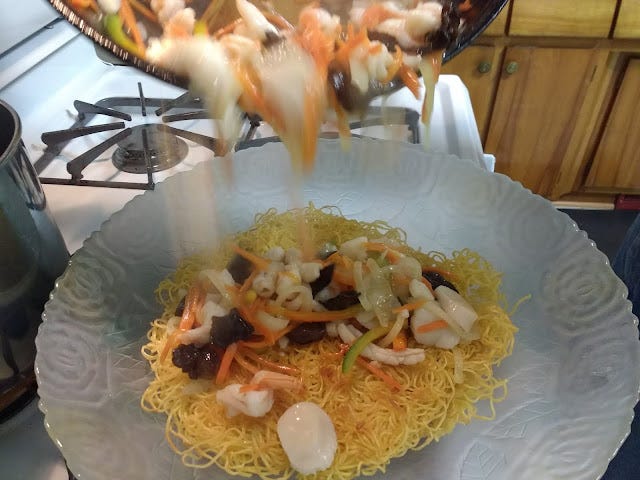 And you're done! 
Three Fresh Seafood Noodle, 三鲜两面黄